When preparing for an event, the phrase "less is more" doesn't always apply. Sure, it's good to keep in mind when deciding how long your speech needs to be or how many times you should mention your website. But, in many ways, a masterful keynote speaker knows that more is more. And, ultimately, when it comes to speech preparation, you can never prepare too much, practice too often, or dedicate too much time and energy to your audience.
With these attitudes in mind, the following guide breaks down seven key ways to excel as a keynote speaker. Some are practical and focus on the "business" aspect of thought leadership. On the flip side, others are strategic, centered instead on how to build a speaking reputation that precedes you.
Although it's not an exhaustive list, implementing any – or, even better, all – of these strategies will not only guarantee the success of an individual event. It will also help you build lasting relationships with your clients. That way, what started as a single gig can turn into many down the road. 👍
Before we dive in, please note that this list primarily focuses on the action-oriented aspects of running a speaking business. For details about what products, services, and systems can help you implement these strategies, check out our two supplemental guides, "How To Start A Speaking Business" and "How To Get Speaking Gigs".
Dedication To Your Ideal Audience
As a keynote speaker, the first thing to iron out is the audience on which you want to focus. Unlike most industries, keynote speaking is unique in that, for many speakers, their message is universally applicable. If your focus is sales, for example, your speeches may be appropriate for a wide variety of organizations from small teams in the midwestern U.S. to multinational corporations managing remote employees around the world. Even new speakers have the opportunity to speak for a global audience and reach hundreds of thousands of people, should they want to.
Nevertheless, even if your goal to speak around the world, your first step is to find your foundational audience. It may be defined by company size, industry, or even geographic location. In any case, below are a few questions to consider when identifying this audience.
Where do you already have professional experience? If you've worked in finance, for example, financial service organizations may be a good place to start.
What problems do you want to solve? At the end of the day, speaking is about driving positive change. So, the more you can address problems, the more likely you are to book keynotes.
Which groups are most affected by said problems? If you want an event organizer to trust you enough to hire you as a keynote speaker, you have to show that you understand their audience's pain points.
Essentially, your goal is to find out who benefits from your expertise the most and tailor your speaking content to their needs. In this way, you can build your client list and speaking reputation as efficiently as possible. Then, after you've built success within that original niche, you'll be able to effectively expand to a wider audience.
Value-Driven Sales Outreach
Also related to your audience, the second thing to master as a keynote speaker is a value-driven approach to that audience. When looking for speaking opportunities, many traditional sales tactics no longer apply. This is especially true for practices that suggest your audience's representative (i.e. event organizer) is a sales target rather than a potential partner, such as mass emails.
To avoid giving this impression, you can't go wrong with inbound marketing. If you haven't heard of it before, inbound marketing is – as HubSpot puts it – "a business methodology that attracts customers by creating valuable content and experiences tailored to them. In this way, inbound marketing is about "form[ing] connections they are looking for and solv[ing] problems they already have."
Put simply, inbound marketing recenters your sales efforts around value for potential customers. This can include blog articles or podcast episodes about your ideal audience's challenges. It can even include multi-page PDFs, which you can give away for free in exchange for the recipient's email address. Below are a few additional ways you can provide value.
15-minute "Are we a fit?" call to discuss your ideas for their event
5-10 page ebook that breaks down a few solutions to common industry problems
Custom 2-minute video to introduce yourself and thank them for joining your newsletter list
10 email series of daily tips for them to level up their professional performance (all of which would be tailored to the audience at hand)
Regardless of how you choose to provide value, it should be easily accessible, up-to-date, and free. Again, being a keynote speaker is about helping your audience. If you can provide help before getting hired, however, that audience is even more likely to (A) trust you and (B) hire you down the road.
Service-Based Sales Conversations
Third, if you're going to become a keynote speaker, adopt the mindset of "service over sales". Like the use of inbound marketing to attract potential customers, service-based sales is about providing value during your initial interactions with potential customers. As you'd expect, these conversations should avoid stereotypical sales ploys and instead build trust through unassuming guidance and free resources.
For example, one of the most well-known sales sayings is "ABC: Always Be Closing." This maxim argues that, at the end of every sales call or meeting, you should be pushing for the "close". Unsurprisingly, though it periodically works, this tactic tends to backfire, leaving clients feeling pressured, undervalued, and upset.
On the flip side, acting with your customer's needs and goals in mind does the opposite. Even if you have little speaking experience, event organizers aren't just considering you for your speaking skills. They also want a keynote speaker that is easy to work with and treats them as a true partner, not a dollar sign.
Ultimately, there are countless ways to accomplish this. A few common examples include letting potential clients choose wherever they want to talk via Zoom or phone and being patient when a conversation runs a little longer than planned. If you want to go above and beyond, you can come to conversations prepared with research and ideas about their event.
Whatever you do, keep in mind that the speaker sales process has three basic stages at the beginning: finding you, reaching out to you, talking to you, then hiring you. If you want to guide potential clients through the second stage – reaching out to you – and into an in-depth conversation about whether or not to hire you, providing exceptional service is key.
Confident "Money Conversations"
On a similar note, when the potential client is considering hiring you, enter the "money conversation" with confidence. For many speakers, new and experienced alike, this part of the sales process is the most difficult. After all, you don't want to sound arrogant or pushy when explaining your fees. But, on the other hand, you also don't want to be a pushover or undersell your products and services, keynotes included.
To find the balance between these two attitudes, it's important to weigh your costs and benefits with those of your potential client. Below are a few things to consider as you do so.
Where and when is the event taking place? Events that require extensive travel or span multiple days are more inconvenient for you, justifying a higher fee.
What other speakers is the event organizer considering? Even if you don't know, conduct competitive research to find out what other keynote speakers in your niche are doing (so you can outshine them).
What products and services will you provide? Obviously, more (or higher value) offerings mean a higher contract fee, plain and simple.
What will the outcome of your work be? You're there to help them meet their goals so proving you will (through testimonials, hard data, etc.) will justify a higher fee, too.
All in all, the money conversation boils down to equal value on both sides. Whether you're a new keynote speaker or an experienced one, your clients want to know that their monetary investment in you will pay off in the same way you want assurance that your investment of time and energy will pay off. As long as you're focused on balancing those two things and serving your client, the money conversation will be fine. 👌
Pre-, Mid-, And Post-Event Coordination
After you're hired and the contract is signed, the fifth trademark of an amazing keynote speaker is continuous service. We've all seen examples of bad customer service, including those in which new customers are prioritized over existing ones. Cable or internet companies, for instance, are often notorious for enticing new customers with attractive sign-on offers. Then, after the customer's made a purchase, they're left navigating inefficient support channels or – even worse – saddled with higher fees than they originally anticipated.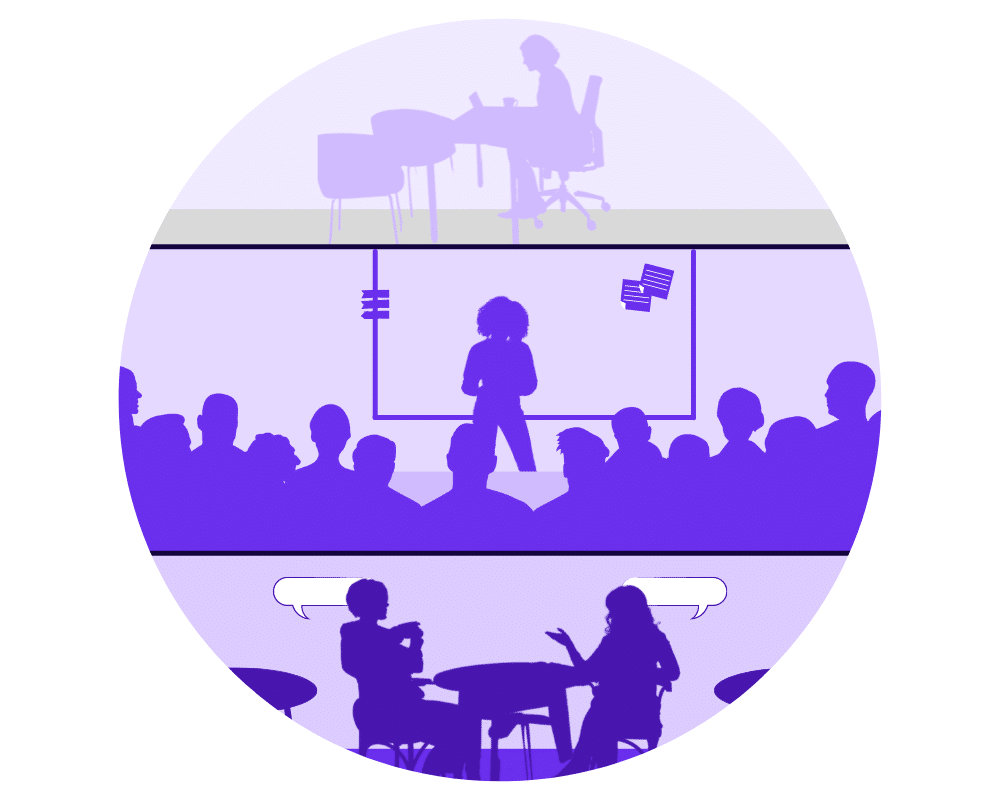 As a keynote speaker, it can be easy to fall into this pattern accidentally. Once a contract is signed, you'll prepare for the event – absolutely. But you'll also be juggling new speaking opportunities, ongoing projects, and the day-to-day minutiae of running a business. As a result, even if you don't mean to forget about a confirmed client, it can be easy to do so, simply because you have so much to manage at once.
To overcome this challenge, meet with a client regularly before an event to discuss their needs. A few questions you may ask include:
What speaking-related information do you need from me for event promotion?
How early should I arrive before my keynote for sound checks and rehearsal?
What technology (cables, adapters, laptops, screens) will be available at the event, just so I can format my presentation accordingly?
Can you tell me more about your goals for the event?
What can I do before, during, and after the event to help you achieve those goals?
Summarily, because of the high contract value of speaking engagements, it's vital that you demonstrate your dedication to the event's success at all times. Not only will it earn you a glowing review from the client. It will also prime them to refer you to other event organizers in their network. Win, win!
Flexibility Around Problems Or Trends
Sixth, to master your career as a keynote speaker, stay on top of industry trends. In many ways, public speaking has been consistent, and many speaking tactics used 100 years ago remain unchanged. For instance, strong vocal projection, confident body language, and use of visual aids, though simple, are still "tried and true".
That said, when it comes to professional speaking – that is, speaking for a living – mindfulness is of the utmost importance. In spring 2020, for example, the events industry as a whole was thrown into chaos as the coronavirus pandemic shut down in-person events. For the organizations hosting events, this meant an immediate need to cancel speaking contracts and reduce the money wasted on the original event planning. By extension, for speakers, this meant a dramatic decrease in speaking opportunities and revenue.
Luckily, the majority of professional speakers were able to adjust to the circumstances. In fact, of those we surveyed, more than 80% transitioned to virtual speaking. Many were even able to increase their speaking fees with 6% charging more than $20,000 per gig, up from 1.8% in 2019. By the end of 2020, only about 5% of speakers said they had left the industry as a result of COVID-19, demonstrating that even in the face of such a large-scale, unprecedented problem, survival was possible.
In the same way, as you build your speaking career, keep your eyes open. Look for ways that event organizers' demands are changing. Look for trends in small business and changes or challenges for your audience. And, most importantly, look for ways that the speakers around you are struggling so you can learn from their mistakes. As harsh as it sounds, it's like the famous Charles Darwin quote says: "Adapt or die."
Long Term Client Relationships
Last but not least, if you truly want to excel as a keynote speaker, think long-term. As the best keynote speakers will tell you, the speaker sales process isn't linear and what started as a single event doesn't have to end that way. Instead, if you focus on serving your clients for the long haul, one gig can lead to additional opportunities.
Our advice? Add a specific task to your sales workflow for "Ask for a testimonial and any referrals." It can be through a Zoom conversation, a phone call, or in an email chain post-event. The goal is simply to prevent yourself from forgetting to ask. That way, best-case scenario, you make some new connections and, worst-case scenario, at least you tried. After all, you'll never know if you don't ask!
Hopefully, as you continue to work towards a successful speaking career, this guide helps you hit the ground running and avoid some of the most common pitfalls among aspiring or new speakers. For more information about building a speaking business, visit our previous guide, "How To Become A Professional Speaker: The Beginner's Guide."
Additionally, for ongoing support and speaker-specific guidance, join SpeakerFlow University's group coaching program! With customized coursework and exclusive content for speaking professionals, SFU is all about building a better business with encouragement and collaboration from other speakers. So, if you're ready to join the group, we're glad you're here! Just visit our schedule a free call with our team or shoot us an email to get started. 👌